Changes in Florida Special Needs Trust Law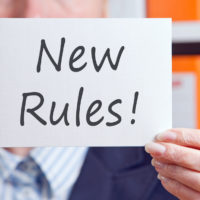 Special needs trusts, also called supplemental needs trusts, can be an essential part of any estate plan that includes family members with a disability, particularly special needs children.  Special needs trusts allow you to leave money to a family member who receives public benefits such as Medicaid without causing the beneficiary to become disqualified due to having too many assets.  As we previously discussed, recent changes to federal law now allow individuals with disabilities to establish their own Florida special needs trusts (a "first person trust") rather than requiring someone else to set up a trust on their behalf.  Additional changes to Florida law have otherwise enhanced the benefit and ease afforded by special needs trusts.  Continue reading for details on the recent changes to Florida trust law below, and contact a West Palm Beach special needs and elder law attorney for more information.
Modifying Irrevocable Special Needs Trusts
A recent bill, HB 413, makes it easier for the trustees to change the terms of an irrevocable trust, specifically including supplemental needs trusts.  Effective July 1, 2018, the new law changes the standards for trustees to modify an existing trust.  Under pre-existing law, a trustee to an irrevocable trust could rewrite the terms of a trust by essentially pouring the funds from one trust into a new trust (a process called "decanting").  This process allows a trustee to privately rewrite the terms of a trust without going through judicial modification procedures. 
Previously, this was only available when the trustee had "absolute" power to invade principal.  Trusts often limit trustee power to invade principal based on the classic health, education, maintenance, and support (HEMS) standard, effectively preventing these trustees from using the "decanting" procedure.  The new law gets rid of that limitation, allowing trustees to decant principal to a new supplemental needs trust for a disabled beneficiary without needing to go through the costly and time-consuming judicial modification process. 
The law specifically provides that "an authorized trustee who has the power under the terms of a first trust to invade the principal of the first trust to make current distributions to or for the benefit of a beneficiary with a disability may instead exercise such power by appointing all or part of the principal of the first trust in favor of a trustee of a second trust that is a supplemental needs trust" under certain circumstances.  The requirements are simply that the new trust must also benefit the same person(s), the beneficiary must have a disability, and the trustee must determine that the transfer of principal will further the purposes of the original trust. 
If you are in need of a skilled Florida special needs and elder law attorney, contact the seasoned, compassionate, and professional West Palm Beach trust and estates attorneys Shalloway & Shalloway at 561-686-6200.