Elder Atty. Shalloway Presents Elder Advocate Award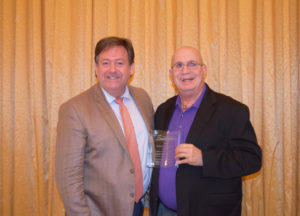 THE Elder Law and Special Needs Trust Attorney firm of Shalloway & Shalloway of West Palm Beach has presented their 2016 Elder Advocate Award to Mr. Gordon Broom for his many thousands of hours of volunteer work in a variety of venues. The entire community has benefited from his personal efforts while he himself suffers from Younger Onset Alzheimer's Disease.
Elder Law Attorney Mark Shalloway presented the award on behalf of the firm and his deceased father, the beloved past principal of the firm, Elder Law Attorney Mike Shalloway. The Elder Mr. Shalloway was singled out for special praise for his many years of devotion to elders and the volunteers who serve them.
Attorney Mark Shalloway is Board Certified in Elder Law and Special Needs Trust. He is a past President of the National Academy of Elder Law Attorneys (NAELA). He has served as the Chairman of the Board of the Alzheimer's Community Care organization in Palm Beach, Martin, Saint Lucie, Indian River and   Okee chobee Counties.