The Development of the Living Will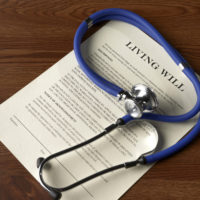 The case of Terri Schiavo garnered a great deal of public attention and sparked an interest in advanced health care directives known as living wills. Because Terri did not have a living will, after a heart attack left her unconscious for almost a decade, Terri's husband sought to become her guardian in order to end the artificial prolongment of Terri's life. This led to a protracted legal battle between Terri's parents and Terri's husband, and even the state of Florida, regarding how Terri's end of life care should be handled. Terri's husband claimed that Terri would not have wanted artificial prolongment of life, but Terri's parents disputed that claim. Given the absence of any document memorializing Terri's wishes, the courts were left with the difficult task of deciding whose wishes should be respected.   
In order to avoid having loved ones fight over how to manage end of life care, individuals may execute a living will to express their desires regarding end of life care. Individuals may express their desire to have their life artificially prolonged for as long as possible or they may express a desire to forgo all artificial prolongment of life, which may include a refusal to have hydration and food provided by tube. Alternatively, an individual may express a desire to have artificial prolongment of life for a certain amount of time and thereafter have such measures discontinued or to only have artificial prolongment of life if a doctor believes there is a chance/likelihood of recovery. Women who execute a living will may even include directives on how they would want to be treated if they fall into a persistent vegetative state or coma during a pregnancy. 
While living wills are a crucial part of ensuring end of life wishes are honored, it is almost equally important to execute a designation of health care surrogate document that designates an individual to make health care decisions if you are unable to make such decisions for yourself. A health care surrogate should be familiar with your values and desires regarding medical treatment so they may honor and effectuate those wishes. Although executing these documents may only seem necessary for elderly individuals, as the Terri Schiavo case illustrates, it is important for all adults to have these advanced health care directives in place to prevent family disharmony during a time of crisis where family members are already experiencing a great deal of pain and anxiety.