Selecting a Trustee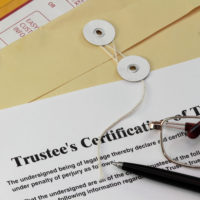 Making the choice to create a trust can be a great way to provide for your loved ones long after you pass on. One important component in ensuring that these assets last long enough to provide financial support to the people and causes you care about is the identity of the person you've selected to serve as the trustee. Read on to learn about some important considerations in choosing the person to serve as your trustee.
Choose someone who is business-savvy, but knows their limits
Your trustee doesn't have to be extremely experienced in money management in order to be a successful trustee, but it would be helpful if he or she has a basic understanding of what makes a stable long-term investment, and how to handle basic tax documents. That said, there is a benefit to choosing someone who understands the limits of their business savvy and will turn to an expert such as a corporate trustee or accountant should a more complex issue arise.
Make sure your trustee will be available to do the job
If you're creating a trust that you would like to continue long after you pass on, you'll need to choose a trustee whom you believe will long outlive you. You'll also need to choose someone who will have the time to manage your trust personally, in order to ensure that it is managed according to your desires and not by an anonymous associate.
Family members as trustees can make for a complicated choice
If your trust is relatively small and simple, requiring few complex choices, choosing a bright family member to do the job can be a good idea. However, choosing family can bring with it infighting among relatives and second-guessing of management decisions, and even hurt feelings by those who were not chosen to serve as trustee. You may want to consider hiring an attorney to serve as your trustee. Your trust might best succeed under someone immune to family infighting due to being outside your family, but who knows you and your beneficiaries' needs and desires, and who has the business and legal acumen necessary to do the job.
If you're in need of capable, experienced and effective legal help with your Florida estate plan, contact the West Palm Beach wills & trusts attorneys at Shalloway & Shalloway for a consultation at 561-686-6200.