Medical Conditions Afflicting The Elderly – Continued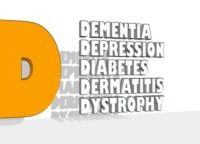 It is important for Elder Law Attorneys to understand some of the basics pertaining to the medical conditions suffered by their clients.
DEPRESSION:
Depression is a serious medical illness affecting 15 million American adults, or approximately five to eight per cent of the adult population.  Major depression is persistent and can significantly interfere with an individual's thoughts, behavior, mood, activities and physical health. 
Major depression is the leading cause of disability in the United States.  It occurs twice as often in women as in in men.  Episodes of depression frequently occur once or twice per year. The intensity       of these episodes tends to increase over the years. 
Major symptoms of depression include persistently sad or irritable mood, pronounced changes in sleep, appetite and energy, difficulty thinking, concentrating and remembering, physical slowing or agitation, lack of interest  in or pleasure from activities that were once enjoyed, feelings of guilt, worthlessness, hopelessness and emptiness, recurrent thoughts of death or suicide, persistent physical symptoms that do not respond to treatment, such as headaches, digestive disorders, and chronic pain.
There is no single cause of depression.  Scientists believe that there is a chemical imbalance in the norepinepbhrine, serotonin and dopamine neurotransmitters that are chemical messengers that transmit electrical signatures between brain cells.  Depression can be a devastating illness but it is treatable. Roughly 80 per cent to 90 per cent of those diagnosed with major depression can be treat-  ed. Treatment consists of medication and psychotherapy.  Severe depression is not uncommon with aging and can lead to institutionalization. 
DIABETES:
Diabetes is a disease in which the body does not produce or does not properly use insulin.   Insulin is       a hormone that is needed to convert sugar, starches and other food into energy needed for daily life.  The cause is unknown. However, both genetics and environmental factors, such as obesity and lack of exercise, appear to play roles.  There are two types of diabetes.
Type One diabetes results from the body's failure to produce insulin, allowing glucose to enter and fuel cells.  Type Two diabetes results from insulin resistance combined with relative insulin deficiency.  When glucose builds up in the blood instead of going into cells, the cells may be starved for energy.  Over time, high blood glucose levels may damage a patient's eyes, kidneys, nerves or heart.  Type Two diabetes is common in the aged population.  Diabetes is often treatable with medication.  However, it causes increased risk for many serious complications.  These complications include heart disease, blindness, nerve damage and kidney damage.  Diabetes can lead to institutionalization due to its affects on so many other parts of the body.