Getting Started with Estate Planning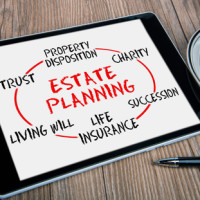 Whether you are young or old, married or single, rich or poor, estate planning is for everyone. Without a will and other important estate planning documents, the state of Florida decides what happens to your property after you are gone, and neither you nor your family members will have any say in the matter. Equally important, if you ever become incapacitated and cannot make decisions regarding your health care or finances, even temporarily, without an estate plan the Probate Court will likely impose a guardianship over you and your estate, appointing someone you may not even know to make important decisions about you without your input.
For more than 25 years, attorney Mark Shalloway has been helping people in the West Palm Beach area plan for the future. Below are some tips to help you get started thinking about what to include in your Florida estate plan.
1) Where will it all go?
Your will is the place to designate how to distribute your estate – who will get what. You may want to leave property to family, friends, charities, or religious or educational institutions. You may also want to leave specific gifts to specific people of cherished, valuable or sentimental items. If bequeathing specific items to certain people, consider a cash gift to other similarly situated persons (other children, siblings, etc.), so that no feelings are hurt. Letting people know of your intentions ahead of time, while not required, can help avoid disputes or challenges to your will after you are gone.
2) Who will take care of you?
If you ever become incapable of caring for yourself or managing your finances, the court may appoint someone to do this for you. This is called a guardianship, and the guardian appointed by the court may not be someone who knows you or knows what your wishes would be. By planning in advance and creating powers of attorney, healthcare directives and other legal instruments, you can rest assured that decisions will be made in accordance with your wishes by people you trust if the need ever arises.
3) Can you save on taxes?
If your estate is very large and you are worried about bumping up against the estate tax, you might want to consider reducing the size of your estate through annual gifts to children, grandchildren, or others. An irrevocable living trust can also remove property from your taxable estate while still going to your intended beneficiaries.
4) Now, where did that will go?
Your will is no good if no one can find it. Once you have created your will and other important estate planning documents, be sure to keep them in a safe place, such as in a locked drawer, in a safe-deposit box, or with your lawyer. Wherever you keep them, make sure you let family members know where they are.
5) Is your estate plan current?
Your estate plan is a snapshot of your life at the time you create it, but things change. As there are births, deaths, marriages and divorces in your family, changes in income or other circumstances, your needs and desires may change. Be sure to revisit your estate planning documents every few years and make sure they still reflect your wishes. Changes can often be easily made.
For help in creating or revising an estate plan in West Palm Beach, contact attorney Mark Shalloway of Shalloway & Shalloway, P.A. at 561-686-6200.