Can a Florida Bank Reject My Durable Power of Attorney?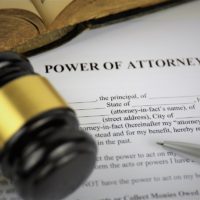 A recent story in the New York Times highlighted the increasingly-common phenomenon of banks rejecting valid powers of attorney submitted after a relative or client has already become incapacitated, instead requiring that the individual sign a power of attorney written by the bank itself. This article has stirred concern among caregivers for elderly parents and family members who have already reached incapacity and would be unable to sign a revised version. Fortunately, Florida law offers certain protections against this happening in the Sunshine State, although those wishing to have a power of attorney held valid must ensure that the document they're signing has been carefully and expertly created.
If you've signed a power of attorney, you know how important it is to choose the right relative or trusted professional to serve as your representative when you're no longer able to make financial and legal decisions. This person will be able to withdraw funds and manipulate your accounts in the same way you would, making them able to steal those funds with relative ease. As a result, banks who are presented with power of attorney documents for the first time must exercise great caution in reviewing such documents for authenticity, and to ensure that it was not subsequently revoked by the signor. While banks are protected from liability in Florida if the power of attorney appeared on all accounts to be valid, the bank will be obligated to replace stolen funds where it accepted an obviously revoked or fraudulent document. With this protection from liability in place, Florida law requires that banks honor a power of attorney presented to it.
Should the bank nevertheless refuse to honor a power of attorney, the bank has four days to provide a written reason for the rejection. Banks may legally reject powers of attorney on several bases, including: a belief that an elderly person is being subjected to financial or physical abuse by the agent presenting the power of attorney; the bank has requested a lawyer's opinion or affidavit from the agent, but not received one; the bank knows that the agent has had their authority revoked; or the bank believes in good faith that the power of attorney isn't valid or doesn't grant the authority that the agent is attempting to exercise.
If you believe that a bank is unfairly or illegally refusing to honor a power of attorney, seek the counsel of a Florida elder law and estate planning attorney to assist you in managing your loved one's finances on their behalf.
For assistance with planning your estate, creating a reliable power of attorney, or long-term care concerns, contact the compassionate and dedicated West Palm Beach elder law attorneys at Shalloway & Shalloway, P.A., for a consultation, at 561-686-6200.