Assisting Aging Parents in Moving to a New Home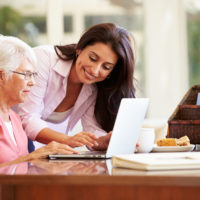 If your parents have recently reached an age where they can no longer manage to care for both themselves and their home, you may be thinking through what steps you'll need to take to help them transition into a new living arrangement. Helping your senior parents move out of their longtime home can be a challenging process, involving both logistical and emotional hurdles. You'll find some suggestions on how to make the process easier below.
Ensure that your parents feel that they're making the choice to move
The move out of an independent home marks the end of a phase of your parents' lives. While it may seem clear to you that your parents need to move for their own well-being and safety, the decision to leave their home and way of life might not be as simple for your parents. Try not to force a move before your parents are ready. Take the time to figure out what your parents want and need out of their new home, and take these desires into account when choosing their new home.
Look into hiring an estate sale company
If your parents have been in their home for decades, they may have accumulated a great deal of, well, stuff over the course of their lives. Sorting through the mementos, photographs, clothing, and furniture to decide what they'll need in their new home, what their family would like to keep, and what should be sold or thrown away may feel like an overwhelming task for your parents to complete on their own. Consider hiring an estate sale company to assist with this task. Many such companies will help seniors sort through their possessions and can offer an objective outsider's perspective on what is or isn't worth keeping. Plus, the resulting estate sale can provide a source of income for your parents to support the move.
Make sure critical documents are in place
If illness or failing mental acuity are forcing your parents to move out of their home, now is the time to ensure that end-of-life planning documents are in place, such as a Florida power of attorney. It is critical to have this document in place that gives either you or someone else of your parents' choosing the ability to make legal and financial decisions on their behalf before your parents become incapacitated. This is also a good time to make sure that other estate planning documents, such as wills and trusts, are up-to-date. A Florida elder law attorney can review your parents' estate plan to make sure everything is in order.
If you or your loved ones need assistance with an end-of-life planning or legal issue in Florida, contact the compassionate and knowledgeable West Palm Beach elder law attorneys at Shalloway & Shalloway for a consultation at 561-686-6200.