Are There Legal Problems with Using Form Wills?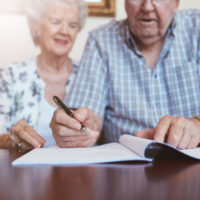 So, you've decided to create a will—congratulations on taking an important step in planning for the future. You might find yourself wondering whether creating your own will, either by writing it yourself or using an online form, is a good way to save money on legal fees. Do-it-yourself wills can actually bring on a host of problems for yourself and your heirs. Read on to learn about what can go wrong with a self-made will. 
Florida doesn't recognize holographic wills. Handwriting an unwitnessed will—known as creating a holographic will—may seem like the simplest method for passing your assets and possessions to your loved ones. However, ensuring that your handwritten will meets the legal standards in your state can be difficult. Florida requires that all wills be signed by two witnesses in order to be valid, even if handwritten by the testator.
You could miss out on important tax exemptions. If you're creating your own will, you might not realize that the ways in which you've structured your will might cause you to miss out on tax benefits, either for your own estate or for those who would inherit from your estate. It can be difficult to foresee the tax consequences of a will without the guidance of an experienced legal professional.
Certain gifts might not be in the heir's best interests. Passing along a lump sum of cash to an heir could be overwhelming for a young person, or even for someone who needs the help but has poor money management skills. Additionally, direct gifts could cause tax problems or other legal issues for certain recipients. A lawyer can help you create trusts that allow you to include important loved ones in your estate plan in a way that best benefits them, and alert you to the potential legal or tax consequences of gifts.
DIY wills are more likely to be challenged in court. Creating a will without the help of a lawyer can result in many questions regarding your intent and the validity of the document. Failing to use a lawyer's help could offer dissatisfied beneficiaries (or those you did not include in your will) an opening to challenge the validity of your will in a drawn-out court proceeding. Using a lawyer offers your heirs peace of mind in knowing that you created the document with professional, objective assistance, and that it was not the result of the undue influence of a relative or caregiver.
For assistance with creating a valid and reliable will in Florida, contact the seasoned and dedicated West Palm Beach estate planning and elder law attorneys at Shalloway & Shalloway for a consultation, at 561-686-6200.