An Overview of Medicaid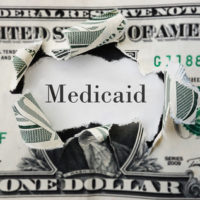 Medicaid was established in 1965 under Title XIX of the Social Security Act.  Medicaid is a Federal-State program of medical assistance that was established for low-income individuals who are aged, blind or disabled.  Since 1965, the Medicaid program has been expanded to cover many more than just the very poor or disabled.  Medicaid covers most of the costs of long term care after the patient and his spouse have reduced their financial resources to certain limits. However, more recent revisions of the program have made it possible for retirees with substantial assets to apply and be approved for long term care benefits. 
At the Federal level, Medicaid is administered by the Centers for Medicare and Medicaid Services (CMS) of the Department of Health and Human Services (HHS).  HHS policy is found in the Medical Assistance manual and Information memoranda.  Medicaid is administered at the State level by the designated State agencies within each State.
                                                   THE APPLICATION FOR MEDICAID
The Medicaid application is on a written form that can be obtained from the local Medicaid agency.  It is to be completed under the penalty threat of perjury.  The application must be filed by the applicant or an authorized agent.  The authorized agent may be a welfare social worker helping a very poor applicant or the agent may be a Board Certified Elder Law attorney who has the training and years of experience to provide the best available advice to the applicant. 
Clients often want to refuse to disclose assets to Medicaid.  They must be informed that failure to report an asset is a criminal offense.  Medicaid is required to make a decision with respect to eligibility within 45 days of an application for the aged or 90 days for an application for the disabled or blind.  If an appli-cant is denied Medicaid or if the application is not processed during the time frame, he is entitled to a Fair Hearing.
Medicaid is retroactive to the date of application.  If medical bills have been incurred within the three-month period prior to the month of application for Medicaid, those bills can be included in retroactive Medicaid eligibility, provided the applicant was otherwise eligible for Medicaid during the prior period  of time.  If the application results in a Fair hearing in which the hearing decision is favorable to the appli-cant, Medicaid payments are retroactive to the date of the initial application.